hot damn!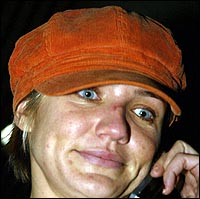 the movies can make you look good, huh? ooh wee...
more proof that stars are not perfect. so quit stressin', more than likely you're cooler that those a-list types.
thanks to
whatevs
for the classy pic.
on to some other ish...
i got up this morning to my internet/cable on the blink and my cell phone was out of service. maybe the planets are aligned all weird. who knows. while driving around today, my att cell phone had CINGULAR on the screen rather than the usual att operator logo. has this happened to anyone out there before? shit is wacky.
my hosting service is close to shutting down their offices. servers crashing and other problems continue for my friend's business. if you any of you have any ideas on some low-cost hosting, hook a brotha up!
my email is down for the time being, hit me off at smellydj@yahoo.com. send me a shout out.
i need to go. there's an incredible bowl of chili calling my name. yum.
peace...